Classcharts Raffle Winners 2020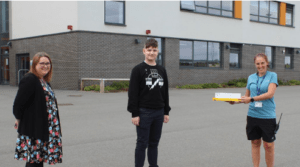 With students unable to spend their Classchart points due to the Covid19 lockdown, it was decided that all outstanding points would be converted to raffle tickets for the annual Apple iPad draw. The draw took place on 1 July and the lucky winner from each campus collected their new Apple iPad, case and keyboard shortly afterwards.
Matas Kisieliu from Brooklands Campus came in on 13 July to collect his prize from Vice Principal, Miss Bolam and Head of Key Stage 3, Miss Mather. Miss Mather congratulated Matas on his win and thanking him for being an excellent role model to other students.
Whilst at Walnut Tree, Annalise Milmine turned up incredibly promptly at her agreed time to collect her prize from Vice Principal, Mr Bennett and her form tutor, Miss De Spirito. When Miss De Spirito was informed that one of her tutees had won this year she said, "Annalise is a very respectful, hardworking, creative and conscientious student who takes every aspect of her school life seriously. She is involved in extracurricular activities outside of school and also puts herself forward for many opportunities within the school environment. A well deserved winner, congratulations!"
Congratulations again to both our winners who embody the spirit of our school by making the most of their learning opportunities both within and beyond the curriculum. We know that their new iPads will be well used in the current remote learning environment.